Facilities

| Mt Buller Ski Lodge

Facilities in the ski lodge's commercial standard, self-catering kitchen include a commercial stove, additional gas cook tops and oven, indoor and outdoor gas BBQs, commercial fast cycle dishwasher, toasters, mini ovens and microwaves.

A Zip hot-water unit is available for that immediate cup of tea, coffee or hot chocolate (you provide the marshmallows), as well as plentiful supplies of cooking and eating utensils of all shapes and sizes.

Each room at Mt Buller Ski Lodge is allocated a fridge space and cupboard for guests to store their food and beverages.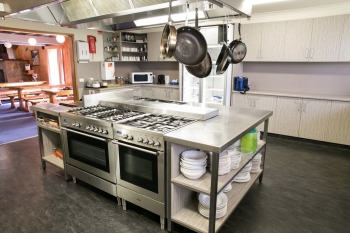 Join others or do your own thing, the choice is yours!
Prepare a sumptuous meal in the large well equipped kitchen complete with commercial stove, BBQ, dishwasher and microwave.
Share the conversation with other ski lodge guests or find a quiet table in the mezzanine area overlooking the fire place and lounge.
Relaxation made easy!
What better way to relax after a day on the Mt Buller slopes than in front of our open fire with friends and refreshments.
If you need some fun, adjourn to the games room, or turn off in the TV room.
Free wi-fi available for guests.
Recreation Room or Mezzanine
Enjoy a quiet drink with friends or watch a movie, we have you covered!
The recreation room provides a TV and video.
Friends can meet for a quiet drink in the mezzanine bar and an adult retreat is also provided for those wishing to watch their favourite TV show.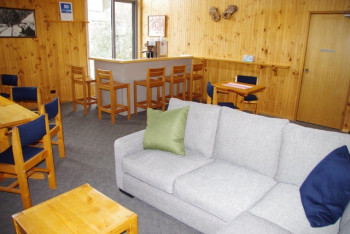 Lodge managers are on hand all year round to ensure that all guests get the most from their stay at SkiLib Mt Buller Lodge, whatever the season.
Early arrivals in can leave their gear in the interchange area, which includes ample refrigerator and freezer space, and enjoy time on the slopes or mouton bike trails until their room is available.
Ski, mountain bike and luggage storage
A well-equipped ski storage room, with secure storage is provided, as is a large drying room that will ensure no guest has to struggle with damp gear the next morning.
In the summer season, these rooms are provided for secure storage of your mountain bikes.
A laundry, with drier, is available for guest use for a small fee.
Your own bed-linen

Towels

Personal toiletries

Food and beverages

Suitable clothing
Please note
The standard license permits only the consumption of your own alcohol in SkiLib Mount Buller Ski Lodge. Linen (top & bottom sheets, pillowcase and towel) may be hired form the Lodge Manager if required. Ski clothing, skis, mountain bikes and other recreational gear may be hired on the mountain.
Please also note, if you choose to use a sleeping bag, you must provide a bottom sheet for your bed in order to ensure hygiene standards for future guests using that bed.